| | |
| --- | --- |
| | It all starts here in the quiet hills of Shushan, a tiny hamlet in Salem, NY on the Vermont border, about 60 miles northeast of Albany. On an old dairy farm that encompassed over 200 acres of pasture and woodland, there are four bays like this covering only a quarter of an acre, providing herbicide and insecticide free tomatoes on a year round basis. There are two more similarly sized bays, one for herbs and another for cucumbers . |
| | |
| --- | --- |
| An excellent well, fed from the pristine hillside on the property, provides plenty of the purest water for the operation. Nutrients are mixed into this water to produce lush tomato plants for about ten months per year. The plants are an indeterminate variety, i.e. the vines continue to grow as long as the fruit is picked slightly before it ripens fully. | |
| | |
| --- | --- |
| | As the vines grow, they are swirled around the greenhouse, reaching almost 45 feet in length! Shushan Valley Hydro Farm grows both beefsteak and cluster varieties. On the near left you can see some nutrient piping and a beefsteak cluster. Far left is a perfect pyramid of vine ripened tomatoes. |
| | | |
| --- | --- | --- |
| | On the left is Phyllis in the herb house. That is young basil in the foreground and more mature basil in the bench behind Phyllis. On the right is farm fresh basil, ready to be delivered to the market. Come find out what fresh food tastes like, even in the winter. | |
| | | |
| --- | --- | --- |
| | On the left is a grandson getting after a cucumber. Even he knows that fresh vegetables are good for you. Nothing matches the experrience of a fresh, ripe cherry tomato exploding in your mouth! We've added them, heirloom zebra tomatoes, and yellow and red vine clusters. | |
| | | |
| --- | --- | --- |
| | Here are some more of the finished products: fresh, local, vine-ripened tomatoes and the best basil around. This link to WNYT channel 13 stresses the importance of fresh, local products at Hannaford. Shushan tomatoes are featured and both Wayne and Phyllis have cameo appearances. You will find their tomatoes at almost all of the Hannaford and Price Chopper supermarkets in the Albany region. On Wednesday and Saturday they are in New York City's Green Market. Florence Fabricant had some nice things to say about our tomatoes in the NY Times. New York magazine put a recipe using our tomatoes in this issue and we were featured in this rather special issue of magazine on the right, although we make no claims for our tomato's sexiness. But they can't hurt, so take home plenty. They're great plain or make a Caprese salad with our basil, some mozzarella, olive oil, and balsamic vinegar. Use these tasty tomatoes in salads, on pizza, or make a great gazpacho. | |
Almost all the photos on this page will enlarge, if clicked. Use your back button to return to this page.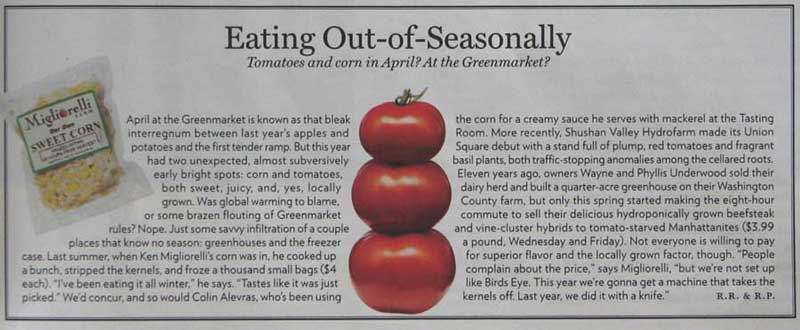 Some photos from the Greenmarket in NY!

On the left is an interview with a local news outlet. The center shows the small sign outside our stand. On the right we have singer Tony DeSare picking up some tomatoes. Ann Hall Avery also visited and has a page describing the wonderful meals she prepared with our tomatoes. Our tomatoes were used in an ABC Dinner Challenge by Emeril. Our stand in NY appears for a short time in this video.

We will return to our stores and farmers markets late September or early October. We currently attend the Glens Falls, Queensbury, Saratoga, Troy, and Union Square Farmer's Markets
---
Now raising Asian cucumbers and Swiss chard!
The old dairy farm has been planted to larch.
Larch poles are available for hop production.

Shushan Valley Hydro Farm
588 Juniper Swamp Road, Shushan, NY 12873
Email | phone 518 854 9564 |
---
---
The logo at the top was designed by Wanda Smith at Adirondack Engraving and Sign Shop.